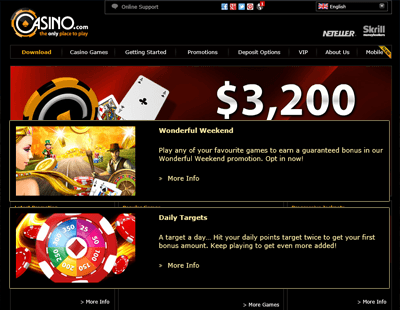 I like it when an online casino allows me to determine the size of my own bonus rewards. Not all of us are lucky enough to have huge bankrolls and sometimes it's nice to be able to earn extra credits without having to spend an arm and a leg at an online casino.
That's why I'm always on the lookout for casino promotions that have different levels of bonus targets, and why I was really thrilled to see that the Playtech powered Casino.com has rolled out a number of target bonus promos. Promos that will allow me to enjoy some great gaming sessions from Saturday, with equally great rewards.
The Wonderful Weekend promo has a range of bonuses for you to choose from, while the Daily Targets promo will run from next week and will challenge you to meet your points target and watch your bonus grow.
Enjoy a Wonderful Weekend at Casino.com
Casino.com invites you to have a wonderful weekend on Saturday June 29th to Sunday June 30th by spreading out a full range of bonuses for you to choose from.
Play ANY of the games at the online casino, earn points and win bonuses according to how many points were accumulated on Saturday or Sunday/Saturday and Sunday.
You will earn more points if you play on both Saturday and Sunday, so keep this in mind when you set your target.
You only have to earn 20 points over the weekend to earn a $5 bonus ($7 if you play on both days) and the figure climbs accordingly.
The highest bonus you can earn during the Wonderful Weekend promotion is $600 by collecting 2,000 points and playing on Saturday and Sunday.
Don't forget that you have to opt in to this promotion before Sunday, June 30th and then decide which bonus you're going to go after. There's a minimum $20 deposit required as well.
Daily Bonus Targets Promo at Casino.com
Another of the Casino.com bonus promos, which is similar to the Wonderful Weekend offer, is the Daily Targets promo.
The casino promises a brilliant bonus simply by taking part in the Daily Targets challenge which will run from Monday, July 1st until Sunday, July 7th.
If you reach your daily points target, your bonus will grow significantly.
To take part in this promo, you'll need to opt in and make a minimum deposit of $50. You'll need to hit your daily target twice to get your first bonus, and you can repeat this every day to earn more.
$3,200 Welcome Package
It's great to see that Casino.com continues to think up ways to reward its existing customers. However, if you haven't yet opened an account with the casino, you may want to check out its welcome bonus which is worth a total of $3,200!
This is how it works:
Sign up to Casino.com and see your first deposit matched up to $400 immediately.
This is followed by 7 more reload bonuses worth up to $400 each.